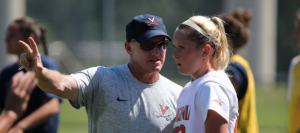 While most of UVA's fall athletes were eager to start their summer immediately after finishing exams, the women's soccer team stayed in Charlottesville to train for their trip abroad. The team worked hard and practiced for all of the spring semester and then finally set out for Europe during the final weeks of May.
I was fortunate enough to speak with rising third year, Briana Westrup who shared with me some highlights from her experience abroad. "We arrived in the Paris airport and immediately got on a bus to do some sight seeing, like visiting the American Cemetery and the beaches of Normandy." The team spent the first couple of days of their trip in Caen, France. While there, they played their first match against VGA St. Maur, a prestigious sports club from the area. The Cavaliers won the game by a whopping score of 7-1.
Between the Cavalier's practice times and team activities, the team was able to spend some time wandering around the city Paris, which Westrup said was her favorite part of the trip. "I went to Mass at Notre Dame Cathedral, visited the Louvre, walked along the Champs d'Elysees….and ate crepes."
Of course, no collegiate soccer team could travel abroad without watching soccer, or as the Europeans call it, "football." The team was able to attend the French Cup Final on May 27th. "It was incredible," Westrup declared. "Europeans take their soccer very seriously, so the entire stadium was noisy from start to finish. And, to top it all off, PSG, the team we [the UVA women's soccer team] were rooting for, scored the winning goal in the 90th minute! I do not think we could have asked for a better match to attend."
The next week, the Cavaliers left Paris and headed to Belgium where they stayed at the National Training Center and practiced on the fields right outside of their hotel, a convenience Westrup and teammates appreciated since it minimized travel time on a bus. The Cavaliers played their next match a couple of days later in Cologne, Germany. They battled against FC Kohn, a professional team from Germany, and the Hoos lost 0-3. The Lady Cavs spent the next day exploring the city of Brussels, recovering from their loss, and according to Westrup, "eating waffles." The Wahoos played their final match in Lille, France just two days after their match in Cologne. The final match was against another professional team, but this time the Hoos played with vengeance and won 3-0. The team returned to Charlottesville Friday, June 2 looking towards the fall season with full spirits and full stomachs (thanks to the crepes and waffles).