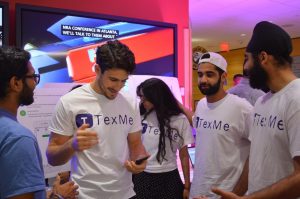 Second-year engineering students Shabad Sobti and Saad Khan had high expectations for themselves at this year's Hackathon, a 24-hour event where hundreds of student programmers and entrepreneurs showcase their talents to a panel of judges looking for creativity, polish and technical vigor.
"We definitely wanted to win," Saad said with a laugh. After some brainstorming, they designed TexMe, a phone service that allows users to listen to anything on YouTube. "We have a TexMe number. All you have to do is text the number with the name of the song you want to hear, followed by the artist. Then you'll get a call with the song playing on it," clarified Shabad.
The best part? No internet connection is necessary. All you need is cellular service. TexMe earned Shabad and Saad the Freedom prize, as well as the Best Mobile Hack prize. Raised in Southeast Asia, Shabad and Saad have experienced first-hand the difficulty for people in developing countries to engage with the rest of the world. "From a global perspective, only about 40% of people have access to Internet," Shabad said. "Both of us know the plight of people [in developing countries]. This is going to be a good way to give them access to a host of media content."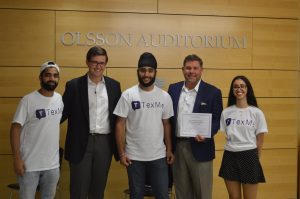 Since the Hackathon, they competed and won first prize in the 2017 Pike Student Entrepreneur Expo, which awarded them $1,000. Shabad and Saad are currently working on increasing TexMe's operating power to reach a wider audience, and they are extending their database to include a broader variety of content.