Let's face it–converting to veganism is taxing as is, but especially when you're a college student. Ever since I embarked on my vegan journey, I've made note of the top 5 places that serve vegan options that really hit the spot.
1. Boylan – Meating Cancelled 2.0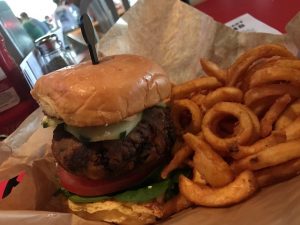 Not what you'd expect, right? Boylan's "Meating Cancelled 2.0" is probably the best veggie burger I've eaten in Virginia. The patty consists of quinoa and black beans. Drizzled with sweet chili sauce and topped with cucumbers and cherry tomatoes, this veggie burger truly delivers. Just ask for no feta or tzatziki sauce!
2. Bodos – PBJ on plain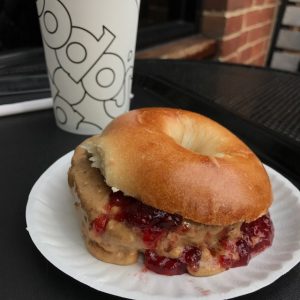 Never underestimate the power of a PBJ. Bodos' PBJ bagel is a must-have if you're looking for comfort food. Maybe it's the freshly baked bagel, or the not-too-sweet/not-too-tart jam, or perhaps it's the crunchy yet creamy peanut butter–whichever the case, these 3 simple components come together beautifully.
3. In The Nood – crunchy avocado roll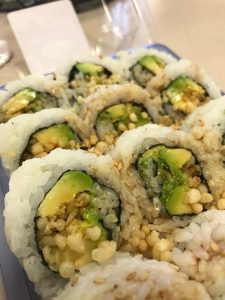 I'll bet you didn't know sushi chefs at In The Nood can take custom orders! These kind chefs are always happy to make me my go-to: the crunchy avocado roll. This roll consists of 4 simple, yet satisfying ingredients: seaweed, white rice, avocado, and–wait for it–sprinkles of crispy, fried onion. You'll quickly lose your craving for smoked salmon with this one!
4. Qdoba – tortilla soup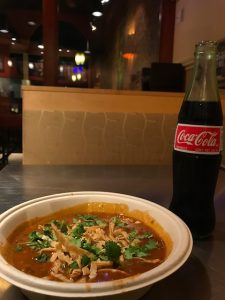 For some reason, nobody seems to know that Qdoba serves tortilla soup–great tortilla soup, at that! I confirmed with employees that the soup is, in fact, tomato-based. Rich flavors of tomato and peppers make this soup especially desirable if you're feeling under the weather. Top it off with tortilla chips, and you're all set!
5. Himalayan Fusion – aloo gobi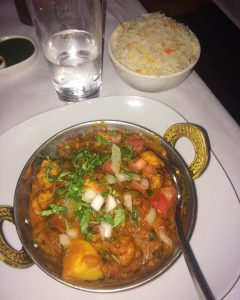 If you haven't yet ventured downtown yet, you should. Downtown Charlottesville boasts a variety of restaurants including Himalayan Fusion. Aloo gobi is a tomato-based curry dish that consists of potatoes and cauliflower and is also served with white rice. Don't knock it till you've tried it!