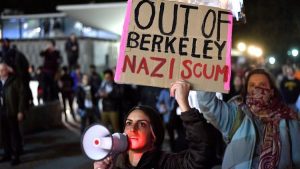 On Wednesday, February 1st, a crowd composed of over 1,500 UC Berkeley students protested against the arrival of Milo Yiannopoulos, senior editor for Breitbart News, at their campus for his seemingly neo-Nazi sentiments. Milo had been invited by the Berkeley College Republicans to give a speech that was meant to educate University members on how to target and deport suspected undocumented students, as Breitbart correspondent Jack Hadfield outlined in his article, which was published a day before the expected visit.
"Milo and the David Horowitz Freedom Center have teamed up to take down the growing phenomenon of 'sanctuary campuses' that shelter illegal immigrants from being deported," Hadfield reported.
Yiannopoulos had planned to publicly name undocumented students, which raised concerns about possible harassment of these individuals.
The protest, originally non-violent, was interrupted by roughly 150 agitators who threw smoke bombs, started fires, and broke windows, causing a disturbance great enough to force law enforcement to cancel the event. The University reported that its campus incurred over $100,000 worth of damage in the riot.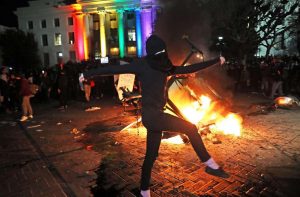 Yiannopoulos was scheduled to speak at Berkeley as a stop on his current tour of U.S. colleges, which he views as hotbeds for "bad ideas."
"I am speaking on college campuses because education … is really what matters," he told CNN. "It's a crucible where these bad ideas are formed. Bad ideas like … progressive social justice, feminists, Black Lives Matter … that I think is so cancerous and toxic to free expression."
Yiannopoulos espouses protectionist rhetoric in his speeches, criticizing feminism, political correctness, and social justice. While he is often called the spokesperson of the "alt-right," his supporters protest the linkage between Milo and neo-Nazism, citing his homosexuality and Jewish heritage, failing to understand that labels can't cover up his ideologies, which are largely white nationalist and racist.
Donald Trump tweeted about the event, criticizing the violent reaction.
"If U.C. Berkeley does not allow free speech and practices violence on innocent people with a different point of view – NO FEDERAL FUNDS?"
Despite this reaction, Trump cut counter-terrorism efforts against white supremacist extremists and hate groups earlier this week and signed an executive order giving white nationalist Steve Bannon a seat on the National Security Council.