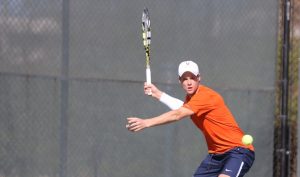 The number one-ranked Virginia men's tennis team defeated the Kentucky Wildcats by a score of 4-3 at the Boone Tennis Center in Lexington, KY on Saturday evening. After falling behind in the doubles portion of the contest early, the Cavaliers dominated the singles portion, winning four of six matches, and securing their second win of the season.
While Virginia's Carl Soderlund and Luca Corinteli captured the No. 1 doubles match with an impressive 6-1 victory, the Cavaliers' No. 2 and No. 3 pairs did not fare as well, falling to the Wildcats 7-5 and 6-3, respectively. Having lost the doubles point, Virginia needed four singles victories to claim the road win.
Following a convincing 6-0, 6-2 victory by Soderlund over Kentucky's Beck Pennington, Virginia found itself tied 1-1. After Virginia's Thai-Son Kwiatkowski took down Ryotaro Matsumura 7-5, 6-4 in No. 1 singles, the Cavaliers appeared to have momentum on their side.
However, a three-set defeat at No. 2, as well as a No. 4 loss which included two tiebreaks left Virginia down 2-3 and on the brink of defeat for the first time this season.
With Henrik Wiersholm's defeat of Trey Yates in the No. 5 singles contest, it was up to Virginia's Alexander Ritschard to capture the road win.
After over three and a half hours of total match time, Ritschard delivered the win over Gus Benson on the No. 6 singles court 6-1, 6-4 and maintained the Cavalier's perfect record.
"These road tests are exactly what we need right now. Kentucky is a great team and the environment here was awesome," remarked Virginia head coach Brian Boland following the match.
The Cavaliers will certainly look to bring this persevering spirit back to Charlottesville as they play their first home match this season on February 11th against Florida at 5 PM.